GUIDED WHITETAIL HUNTS
Midwest Whitetail Adventures specializes in guided whitetail hunts in Kansas.  We have searched out the best properties in our area to ensure you a quality hunt.
We have over 30,000 acres of prime hunting ground scattered around and along the Republican river valley.  This vast ground now reaches into units 4,6,7,8 & 14. This area has been strictly managed and consistently produces giant Whitetails.
With our low pressure, our deer live to be harvested at their prime age.  In our method of management, we know that a 140" minimum or 4 1/2 year old deer, we will have trophy bucks for years to come.  Accompanied with our harvesting method, we have seen a mature herd, having bucks over 200" taken & numerous 200" bucks seen every year.
We have a minimum gross score of 140" in antler size, and if a hunter chooses to harvest a buck scoring less than this standard, the hunter must pay a penalty of $1,000 the day of harvest.  Catering to the hunter, our focus is to provide the hunter with the tools to harvest Monster Whitetails!
Midwest Whitetail Adventures specializes in guided Muzzleloader, Archery & Rifle hunts.  We have the land, the stands and most importantly the knowledge to harvest Monster Whitetails!
Come see why 85% of our hunters return year after year, and join us for a hunt of a lifetime.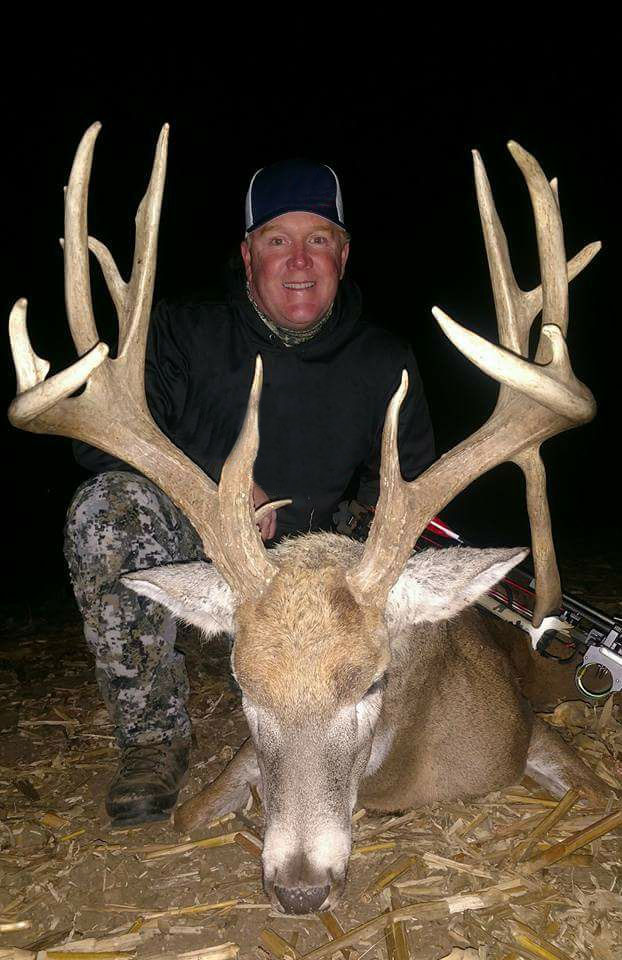 WHITETAIL DEER HUNTING PACKAGES
HUNT SELECT PROPERTIES!
You can now hunt whitetails you've only dreamed about.
Each year we harvest numerous Pope & Young and Boone & Crockett Bucks. We have many record book kills. Let us put you in the record book too! Kansas Deer Hunts like you won't believe!
GUIDED WHITETAIL HUNTS INCLUDE

5 Days of Muzzleloader, Archery &  Rifle Hunts for Trophy Whitetails.

Retrieval of Downed Animal.

Cold Storage for Harvested Deer.

5 Star Lodging & Meals Included.

Transportation to and from stands.
Our package are limited so please book early!
We offer 5 day early muzzle loader hunts, RUT bow hunts, youth hunts and rifle hunts. Take your pick!
Early Season Bow Hunts
We offer early season bow hunts at great prices! Hunt while the bucks are still in their bachelor groups and are still easy to pattern. These hunts are guided, so test your skill at harvesting an early season buck.
RUT BOW HUNTS
We offer prime hunts during the RUT. Late October and early November the RUT starts heating things up in the Midwest. Hunt trophy bucks in the ridges when the BIG BOYS are looking for hot does. These guided hunts will include pre-scouted stand options and lodging.
Trophy Whitetail Hunts
OUR SUCCESS SPEAKS FOR ITSELF
2022 / 2023 DEER HUNT DATES

2022 Deer Hunts
September 3-5 – Youth Rifle – $3000

September 9-11 – Youth Rifle – $3000

September 14-18 – Muzzleloader- $4500

September 21-25 – Muzzleloader- $4500

October 18-22 – Archery – $3500

October 26-30 – Archery – $5000

November 2-8 – Archery – $5000

November 10-15 – Archery – $5000

November 17-21 – Archery – $4500

November 30 – December 4 – Rifle – $5000

December 7-11 – Rifle – $5000
2023 Deer Hunts
September 3-5 – Youth Rifle – $3000

September 9-11 – Youth Rifle – $3000

September 14-18 – Muzzleloader – $4500

September 21-25 – Muzzleloader – $4500

October 16-20 – Archery – $3500

Arrive Oct 24 – Depart Oct 30
Hunt Oct 25-29  – Archery – $5000

Arrive Oct 31 – Depart Nov 8
Hunt Nov 1 – 7 – Archery – $5000

Arrive Nov 9 – Depart Nov 16
Hunt Nov 10 – 15 – Archery – $5000

Arrive Nov 17 – Depart Nov 23
Hunt Nov 18 – 22 – Archery – $4500

Arrive Nov 29 – Depart Dec 5
Hunt Nov 30 – Dec 4 – Rifle – $5000

Arrive Dec 6 – Depart Dec 12
Hunt Dec 7 – 11 -Rifle – $5000